Who we are
We are committed to 'guard' the environment while serving our client's regulatory compliance requirement" .
We are a third-party organization having in-housed registered consultants with various disciplines of expertise. E Guard is one of the most well-known and recognized service providers in Myanmar for it's dedicated services and strength in the field of environmental technology.
We are dedicated to
provide efficient and effective high quality services.
offer comprehensive professional inputs to the development partners.
promote environmental sustainability in compliance with the existing laws and regulations of the country.
assist environmental friendly, socially acceptable, legally sound development projects.
Our Clients
project developers and owners who would bring economic developments
persons likely to be affected by the projects
local and regional administrators, the administration bodies
officials from various departmental and regulatory bodies, the regulators
CSOs, NGOs, researchers and reporters who are interested in the project
Our Leadership
Founders of E Guard are dedicated to the environmental conservation and protection works. They all had worked and trained abroad, blessed with the international experiences and had exposures with environmental consulting firms. Founded with some countable number of key staffs, the company is expanding rapidly in capital, equipment and human resources together with the growing demands of the market. The company has been employing new blood of environmental specialists and engineers providing a working atmosphere for them while working with their seniors and international consultants.
Board of Directors
U Aye Thiha (Managing Director)
Forestry, Natural Resources Management 
Aye Thiha  is Managing Director of E Guard. He hold Bachelor Degree from University of Forestry, Yezin since 1995. Furthermore and got his Natural Resources Management Master Degree from Asia Institute of Technology. He also received Master of Business Administration from Yangon University of Economic in 2018. He managed and implemented numerous projects (including local and foreign funded development as well as investment projects). At E Guard, he is responsible for cost estimation, contracting, staff recruitment, etc..
U Soe Min (Director)
Civil, Water Resources & Environmental Engineering
Soe Min is a co-founder of E Guard. He is a civil, water resources and environmental engineer by training. He holds Bechelor of Civil Engineering from (RIT), Yangon and Master of Environmental Engineering from (AIT), Bangkok, Thailand. He had worked for ADB and WB as a National Consultant for environmental safeguard capacity building program. He has been working as a National Environmental Consultant for infrastructure projects funded by ADB and JICA in Myanmar. He is involved in several EIA projects representing E Guard as a team leader, an environmental specialist and a civil engineer..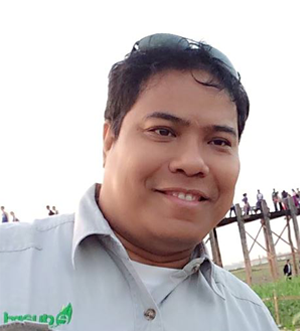 U Tin Aung Moe (Director)
Forestry, Remote Sensing and GIS
Tin Aung Moe is a Consultant who holds Transitional Consultant Certificate No 0103; described expertise is Facilitation of meeting, Land use, Risk Assessment and Hazard Management, RS and GIS. He is one of the founding members of E Guard. He has been working for Environmental Assessment and Environmental Technologies development and capacity building for the Developing countries in Asia and Pacific Region. He is responsible for the policy and institutional linkages and harmonization of E Guard.
Our Team